Jim Click Jr.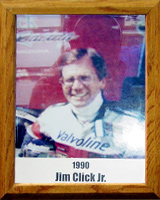 Inducted Class of 1990
Jim Click ranks as one of the most avid "behind-the-scenes" enthusiasts who served as a major sponsor of various sports activities, including Little League Baseball, soccer, golf, softball, and many others. He helped build the Tucson Boys and Girls Clubs. Known as a super-achiever who is very unselfish, he funds scholarships to the University of Arizona each year.
An All-Big 8 football player for the Oklahoma State University, where he also earned academic All-American honors, Click remains an avid athlete and still finds time to run on a daily basis. Jim is a member of the Southern Arizona Roadrunner Club and completed the New York Marathon in 1980, Phoenix Marathon in 1977 and 1978, and Canyon Ranch Marathon in 1982. He is a member of the Arizona Olympic Committee and Fellowship of Christian Athletes.
Click is deeply committed to bettering life in his own community and has served on countess boards and committees, including helping underprivileged and less-chance youngsters.