Jim Ferguson, Jr.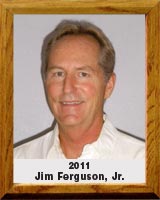 Inducted Class of 2011
Jim Ferguson, Jr. played basketball at Sahuaro High School and coached at the high school level from 1977-2011, including 18 years as head coach at Santa Rita. He graduated from Sahuaro in 1971, was a three-year starter on the basketball team under Coach Dick McConnell, played in the 1971 Arizona High School All-Star Game and helped the team win the 1970 state championship.
Ferguson played basketball at Seattle University and the University of San Diego. Ferguson became the freshman coach at Santa Rita in 1977 and guided his team to an 18-0 record. He also coached the junior varsity and became varsity coach in 1984. He coached the JV at Catalina High School (1985-90) and returned to Santa Rita in 1993.
Ferguson has coached 16 teams into the state tournament, won 10 league championships, and made seven Final Four appearances. He coached teams to two state championships (1999, 2010) and four runners-up (2005, 2007, 2008, 2009).
Ferguson's teams won 370 games. His Santa Rita teams have played in national tournaments and against some nationally ranked teams, including No. 1 Oak Hill Academy in the 1999 Kentucky Hoop Fest and defeated St. Anthony's New Jersey in the 2000 Slam Dunk to the Beach.
Ferguson is the only individual in 4A/5A to win an Arizona state basketball championship as a player and a coach. Jim has been honored several times as coach of the year in the region and state. He is the founder and organizer of the Dick McConnell Coach of the Year award.