Jim Markert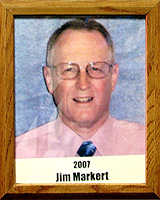 Inducted Class of 2007
Jim was a devoted official in a variety of sports with the Arizona Interscholastic Association for more than 30 years. He officiated high school football for 32 years, basketball for 32 years, umpired baseball for 25 years and also helped out with middle school and Tucson city championship games during that time. Jim called 19 state championship games and 233 postseason games overall, being recognized as one of the top officials in the state.
He was the first recipient of the 5A Conference Southern Region's "Official of the Year" award in 1995 and in 2000 received the Ray McNally Award. He has received numerous certificates of appreciation for his work at state championship football, basketball and baseball games. In addition, starting in 1976, Jim worked with Special Olympics, Senior Olympics and youth sports organizations, calling everything from Little League baseball to the Lute Olson Basketball Camp.
Jim earned three letters in track and two in basketball and was a member of the National Honor Society while a student at Rincon High School where he graduated in 1963. He later lettered in basketball and track at Washington University in St. Louis where he earned a bachelor's degree. At the College Athletic Conference meets from 1964-67, he earned medals in the high jump, triple jump and relays, as well as being on the basketball team's Southwest Regional championship team in 1965.