Jim Rosborough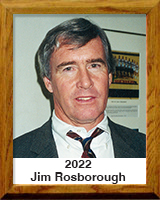 You could write a best-selling book about the career of Jim Rosborough.
He was an All-State basketball player at Moline High School in Illinois in 1962. Recruited by the University of Iowa, Rosborough played four years for the Hawkeyes and then completed an advanced degree at Loyola of Chicago.

He got into coaching at the entry level: an eighth-grade teacher/coach at the Corkery School on Chicago's south side, a predominantly Black area in the Chicago Public School system. After three years, Rosborough applied for a job to be an assistant coach for the new head coach at his alma mater, Lute Olson.

Amazingly, without any college coaching experience, Rosborough was hired.

"What Jim lacked in experience — which was everything — he made up for with his personality, his willingness to work, his passion for the game, and his knowledge of the Chicago area," Olson wrote in his book "Lute! The Seasons of My Life."

"Roz was with me for 27 years and was one of the main reasons the Iowa and Arizona programs were so successful." Rosborough also spent three seasons as the head coach at Northern Illinois and another as an assistant at Tulsa.

After Olson retired at Arizona, Rosborough started a wonderfully successfully Phase 2 of his coaching career. He helped coach the Pima College men's basketball team to a No. 7 finish in 2010. He then spent four years as the assistant coach on Arizona's women's tennis team, which included a 14-0 home record in 2014.

Rosborough then went back to Pima College, and for the last seven seasons has helped coach Todd Holthaus and the Aztecs become a Top 25 program, finishing as high as No. 3 in the NJCAA finals.

Rosborough has been on the sidelines for more than 1,000 victories in his coaching career, from the Corkery School to PCC's women's basketball team.
Along the way, Rosborough has coached in four Final Fours and 23 NCAA Tournaments, and now six NJCAA basketball tournaments.

A modest and humble man who never seeks credit for his team's successes, Rosborough looks back on his sports career and gives credit to his formative coaches, Jack Dye, his ninth-grade coach, and William E. Murphy, who was his ally and mentor when he began coaching and teaching in the Chicago school system.

Rosborough has been married to his college sweetheart, Kim, for 43 years.