Jimmy Riccitello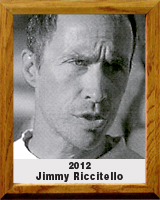 Inducted Class of 2012
A graduate of Santa Rita High School in 1981 where he was a standout swimmer, Jimmy Riccitello became interested in the sport of triathlon while attending the University of Arizona.
Riccitello competed as a pro triathlete for over 20 years. His resume includes more than 50 championships, including the XTerra-Off-Road Triathlon World Championships. Riccitello's career began before aerobars and clipless pedals became a part of the sport and spanned the gamut of the triathlon – sprint and Olympic distance to half and full Ironmans. Riccitello won several states of the France Iron Toor, including the state up Alpe D'Huez and took the best-cyclist trophy. In 2008 Riccitello was inducted into the Xterra Hall of Fame. He served on the USA Triathlon's Board of Directors for six years and is now Ironman's head referee.
In 2011 Riccitello launched his own coaching company for triathletes.