Joan Bonvicini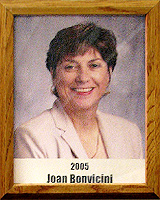 Inducted Class of 2005
Joan is from Connecticut where she started playing basketball in high school at Cathedral High. She went on to earn a degree in Health at Southern Connecticut State in 1975. As a guard, she led her teams to 3rd and 4th place finishes in the '74 and '75 AIAW Championships. She was named Region 1-A MVP and was a finalist for the 1976 US Olympics Basketball Team.
After Bonvicini graduated from college, she moved west and took her first coaching job as an assistant at Cal Poly-Pomona. From there she became an assistant at Long Beach State, and in 1979, at age 25, was hired at its Head Coach. She was named NCAA Division 1-Coach of the Year in 1981; WCAA Coach of the Year in 1984, and in 1989, the City if Long Beach, proclaimed her "Citizen of the Year."
In 1991, Coach Bonvicini was hired to bring a new spirit to the University of Arizona's Women's Basketball program, a program that was lacking support and respect in the PAC-10 Conference. In her 14-years with the U of A, she guided the Cats to 9-postseason appearances; 7-NCAA Tournament berths; and won the WNIT Championship. In 1993, she was selected as the Head Coach of the PAC-10 All Star Team which toured Japan.
Joan is very active in the Tucson community serving on the Board of Directors for the Girl Scouts and the Boys and Girls Club. She is also traveling the country giving motivational speeches; conducting sports seminars and clinics; and helping promote women athletics.
When she is not recruiting or promoting the UA Women's Basketball Program, she is an avid snorkeler and runner of half-marathons.