Joan McCormick Powell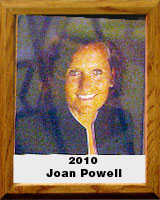 Inducted Class of 2010
A graduate of Salpointe Catholic High School where she was Player of the Year on the volleyball team, Joan Powell played four years of volleyball at the University of Arizona. The 1972 UA team qualified for the national championships.
After graduation, she played USVBA volleyball and was a member of the 1988, 1989, and 1991 national championship teams.
Powell was head volleyball coach at Salpointe High (1973), Palmer High in Colorado Springs (1975), and Coronado High in Colorado Springs (1976-2006). Her team won the 1983 3A state championship, the first-ever state title for Coronado High. In 1988, Coronado won the 4A state title and her 1992 team captured the 5A state championship. She was able to assist 30 student-athletes in receiving volleyball scholarships.
Powell became a nationally known volleyball official, working every level from middle school to high school to the NCAA. She has been a NCAA division 1 championship referee nine times. She was a team leader and referee for U.S. Women's Volleyball at the Olympic Games in Beijing. "I learned to officiate volleyball at the UA and began my career as a volleyball referee in the CYO League,"
Powell said. "They played outdoors on asphalt with nine on a side. I refereed on top of a turned-over garbage can or, if I was lucky, a cafeteria table, all for five bucks a match."