Joe Batiste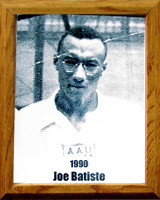 Inducted Class of 1990 – Track
Many consider Joe Batiste the greatest all-around athlete in Tucson history. He set records in track, football, and basketball at Tucson High School. World War II destroyed his chances of being an internationally famous Olympic star (games were cancelled due to the war).
In 1939, with his coach J.D. (Doc) Van Horne watching in the national AAU meet Lincoln, Nebraska, on a hot-and humid Fourth of July, he ran against favored Fred Wolcott, who had been clocked at: 14.3, just one-tenth of a second off the national high hurdle record. Batiste and Wolcott were neck-and-neck until the eighth hurdle, when Wolcott barely tipped the hurdle and Batiste passed him and established a national record of: 14.1 in the 120-yard high hurdles. He later bettered that mark in: 14 flat that stood 18 years. He set a state high jump record as a late entry in an event he normally did not compete in. Batiste led Sacramento J.C. to national track titles in 1941 and 1942, scoring a combined 71 points in seven events.
Batiste died in 1948.