Joel Favara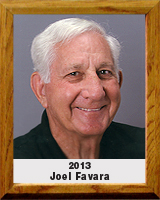 Inducted Class of 2013
Joel "Warhorse" Favara, was a key player on the State Championship Tucson High football teams during the 1951and 1952 seasons. In his high school career, he was selected as first team and captain of the Arizona Daily Star All-City team. He was also picked for the Arizona Republic's (Phoenix) first team and Athlete of the Year. For 26 years, Joel held the record in the state of Arizona for most touchdowns scored in a single game (6).
In 1953, he was selected to play for the West team in the All-American football game. He accepted a full ride scholarship to Oklahoma A&M University where he was team captain and named honorable mention running back for the All-Missouri Valley Conference Team. Despite having a career ending injury, Joel graduated with a Bachelor of Arts from Oklahoma A&M. in 1958.
He started his coaching career as a running backs coach at Oklahoma A&M where he was privileged to coach the first African American players at Oklahoma A&M. His coaching career continued at Comanche (Oklahoma), Safford and Sunnyside High Schools. In 1962, his Safford varsity football team won the Class A Southern Region championship with a perfect 10-0 season record and he was voted Arizona Prep Coach of the Year. In 1966, Safford won the 4A state football championship.
As a school administrator, he established educational programs that are still around today. Joel and his wife Joyce have been married for over 50 years. They have four children and five grandchildren.