John Butcher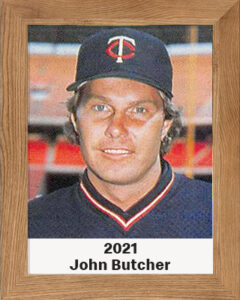 John Butcher had the opportunity to play for two of the Pima County Sports Hall of Fame's most prominent coaches: Sahuaro basketball coach Dick McConnell and the Cougars' baseball coach, Hal Eustice.
Butcher learned well.
After averaging a double-double for McConnell's basketball team of 1974-75, Butcher excelled at baseball and became a first-team All-City pitcher despite missing the first part of the season with an elbow injury sustained during his final year of prep basketball.
Butcher grew up in a winning environment. While at Sahuaro, the Cougars won the 1973 and 1974 state baseball championships.
Some college recruiters and pro baseball scouts overlooked Butcher because his teammate, Tom Wiedenbauer, was an elite prospect who would go on to play for the Houston Astros.
But Arizona, BYU and USC pursued Butcher, a 6-foot 3-inch righthander who threw smoke.
But instead of going to a major college baseball power, Butcher's head was turned when Yavapai College won the 1975 NJCAA national title using two of his former Sahuaro classmates, Dan Hanna and Bruce Ferguson in the pitching rotation of 1975.
Butcher chose Yavapai, telling the Tucson Citizen: "I didn't want to wait four years to be eligible for the (baseball) draft.'' It was the best choice of his young baseball life.
Butcher went 11-2 for Yavapai's 1977 national championship team and was 17-4 over two seasons for coach Gary Ward's powerful baseball program.
"We won the national title,'' said Butcher, "so you can't argue with that.''
A few weeks after the NJCAA tournament, the Texas Rangers drafted Butcher in the first round of the June 1977 draft. Working his way through the minor leagues, from the rookie league to Class AAA, Butcher got promoted to the big leagues in September 1980, replacing future Hall of Famer Ferguson Jenkins as an emergency starter on Sept. 8, 1980.
"I can't visualize what it's going to be like in the big leagues,'' he told reporters. "I'm going to try not to be awed by it. I worked hard for 15 years to get to the big leagues.''
Butcher more than took advantage of the opportunity. He pitched a complete game six-hitter, shutting out the Oakland A's. That led to a productive seven-year career in MLB. He started 164 games, pitched 833 innings and won 36 games. He pitched for the Rangers, Twins and Indians until he left baseball in 1987.
Perhaps the highlight of Butcher's baseball career was a 3-hit shutout over Oakland on April 21, 1985. Butcher faced just 28 batters in the game, one over the minimum possible. He went 13-11 for the 1984 Minnesota Twins with a 3.44 ERA.
One of four children of John "Jack'' Butcher and his wife, Jackie, John moved to Tucson with his family from Southern California in 1970. His father became the manager of the Sears store at the Park Mall and was a supportive baseball dad as John developed into a top high school prospect in Tucson's youth leagues.
He is the uncle of 2010 AVCA All-American volleyball player Jade Michaelsen, a three-year all-conference player at New Mexico, the daughter of his sister, Joanne.
— Greg Hansen