John Fina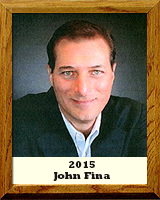 Inducted Class of 2015
John Fina was born in Minnesota in 1969 but considers himself a Tucson native as his family moved to Tucson the year of his birth. As the 5th boy in the family he not only competed in athletics but also had to fight to keep up with his brothers who only emboldened his winning spirit and perseverance.
Fina was a standout in football at Salpointe Catholic High School as a defensive lineman and linebacker. After his senior season he played in the All-star football game for the south region. In 1987, he was selected to the All-State Football team and was recruited to play for the University of New Mexico, Colorado State and the University of Arizona.
Fina chose to play at home for the city and team that he loved. After his sophomore season he was moved from defense to the offensive line where he received the great coaching tutelage of Dick Tomey, Ron McBride and Pat Hill.
In 1992, Fina represented the U of A in the East West Shrine all-star game in San Francisco. He excelled in his studies at the U of A as a pre-med major and was selected to the All-American regional academic team. He participated often in the Athletes in Action program where he visited dozens of local schools to read to children and talk about the merits of health and education.
Fina graduated in the fall of 1991 with a Bachelor of Arts degree. As a football player he made the PAC-10 second team as an offensive lineman. He led the offensive line in bowl games in Hawaii and the Copper Bowl in Tucson.
In the April 1992 NFL Draft, Fina was chosen in the first round as the 27th pick by the Buffalo Bills. He played 10 seasons with the Bills having played in 2 Super Bowls and starting in 133 contests. In 1996 he was named the Franchise Player by the organization.
In Buffalo, Fina spent many of his days off presenting to Buffalo public schools and various organizations. His greatest memories in Buffalo include leading the team in the 1994 AFC Championship game destroying the Kansas City Chiefs and catching a touchdown pass from Hall of Fame quarterback Jim Kelly on Sunday night football.
Fina closed out his career spending the 2002 season with the Arizona Cardinals.
Today Fina enjoys working with the NFL and Arizona Dairy Council promoting the Fuel Up to Play 60 program, which educates children's health, nutrition and exercise. He is married to Melissa and together they have 4 children, Mimi, Bruno, Stella and Roman.