John Gleeson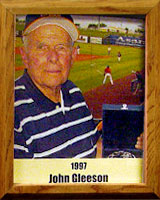 Inducted Class of 1997
John graduated from Amphitheater High School in 1949 and enlisted and served in the U.S. Navy from 1951-55. After an honorable discharge in 1955 he returned to Tucson. He entered the University of Arizona and did construction (masonry) in the Summers. He got his B.S. degree in 1959. He began his 32 year teaching and coaching career in 1960 at Salpointe Catholic High School in Tucson. He did J.V. baseball and basketball until he became the Varsity Cross-Country coach in 1961 and the Varsity Baseball coach in 1963. John re-built the varsity baseball field and being a brick mason he built the first masonry baseball dugouts in Tucson and probably Arizona. The Salpointe Administration named the Varsity baseball field "Gleeson Field" in 1969. John went to Flowing Wells High School in 1969. He would marry Eva (Lopez) in 1970 and they would have three children and presently have two grand daughters.
John would stay and retire from Flowing Wells School District in 1994. John also built dugouts while at Flowing Wells. His 1977 varsity baseball team was state runner-ups and in 1983 his team won the first and only baseball championship in school history. After he retired from in 1994 he was inducted into the Old Pueblo Cross-Country Hall of Fame for his work at Salpointe Catholic. In 1997 he was inducted into the Pima County Sports Hall of Fame. In 1999 the Flowing Wells governing board named the Varsity baseball field "John M. Gleeson Field" making John the first person in Tucson's sports history to have two sports venues named in his honor. In 2004 he was inducted into the Salpointe Catholic Hall of Fame. In 2005 he was inducted into the Arizona Coaches Association's Hall of Fame and in 2007 he was inducted into the Arizona Baseball Coaches Associations Hall of Fame.
He then became president of the PCSHF in November of 2006.
Presentation to John Gleeson in 2016