John Mistler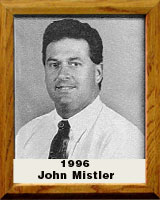 Inducted Class of 1996
John Mistler played baseball and basketball and lettered three times each in football and track at Sahuaro High School, from which he graduated in 1977. He was All-City wide receiver, holds the All-State Wide Receiver season yardage record, held the state record (at the time) of 81 catches in a season and 21 catches in a single game and still holds the United States High School record of 19 catches in one half (Sahuaro vs. Sabino). He also was a member of the Parade All-American team.
As an Arizona State Sun Devil, John was a three-year starter and was named MVP in the Garden State Bowl his junior year. He finished his college career by playing in the East-West All-Star Game. John is one of ASU's all-time top wide receivers and was inducted into the ASU Sports Hall of Fame in 1990. He has been host of Devil Talk and Cardinal Talk on KTAR radio.
John was drafted by the New York Giants in 1981, but his five-year professional career was shortened by knee injuries. While playing for the Giants, John developed the Match Mistler Club for Valerie Fund, a non-profit charity to send children with cancer to summer camp. He is a Fiesta Bowl member and chairman of Practice Field & Facilities; has worked as a counselor in the NFL Goals for Youth; played in some 60 NFL Alumni and various charity golf tournaments to raise money for children; and roasted Frank Kush to raise funds for new sports facilities for the Arizona Boys Ranch.