Johnny Gibson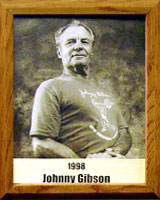 Inducted Class of 1998
A graduate of Tucson High School, Johnny Gibson is well known for his boxing, weightlifting, gymnastics, track & field and bodybuilding expertise. He has received many awards, including Arizona's Most Outstanding Weightlifter (1949), YMCA Champion (1947), Distinguished Arizonan (1977) presented by the Governor's Council on Physical Fitness and the Arizona Weightlifters Hall of Fame (1972).
Johnny often was emcee at state and regional championships, and as Arizona's premier supporter/promoter of weightlifting contests from 1947-1962, he wrote many articles published by national strength and health magazines.
Johnny is presently enjoying competition in the Senior Olympics on a city, state and national level in track & field. He also encourages youth of all ages in weightlifting, gymnastics and go-cart driving.