Julie Brase Hairgrove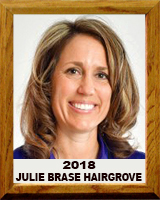 As a freshman at Catalina Foothills High School in 1996, Julie Brase was chosen the Arizona Daily Star's girls basketball Player of the Year.
She was only a sophomore and Foothills was only in its second year as a school. It didn't take long for new Foothills coach Patty Patton Shearer to realize that Brase was a once-in-a-lifetime type of player. "She has made herself the ball player she is,'' Shearer said after Brase averaged 25.4 points as a sophomore. "She spends her time playing basketball year-round. She pushes herself to the limit to make herself better. "She is so competitive. When she steps on the floor she wants to do everything.''
And so she did. A year later, Brase became the state's Player of the Year, leading Catalina Foothills to the state championship, a 31-2 season. Said Shearer: "I admire Julie because she had the courage to come here and start the program with us.'' In her senior year at Foothills, Brase became the state's career girls scoring leader, with 2,913 points. It is a record that still stands. In February of that senior season, she scored 45 and 48 points in back-to-back state tournament games.
She then signed to play for Arizona, where her grandfather, Lute Olson, had built a legendary men's basketball program. Brase was a key backcourt player for the Wildcats for the next four seasons. "I grew up in the gym,'' she said. "I grew up at McKale Center being a ball kid. I would be there when my grandfather had recruiting visits. I was always around. All I knew was basketball.''
At Foothills, Brase broke nine state high school scoring records and completed her prep career with a 26.8 scoring average, despite being double-teamed almost everywhere she went on the court.
After her playing days, Brase, who married former UA football player Mike Hairgrove with whom she has three children, became a coach. She spent two years at Loyola-Marymount and has been a coach with the WNBA's Phoenix Mercury since 2005, a period in which the Mercury has employed five head coaches. All of them re-hired Brase, who this year was part of the West team's coaching staff in the WNBA All-Star Game.
— GREG HANSEN