Tucson High School 1972 Baseball Team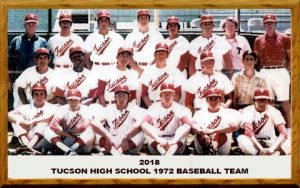 Top Row: Coach Ray Adkins, Frank Castro, Ron Hassey, Al Lopez, Jesus Lopez, Cliff Myrick, David Vitulski (equipment manager), Trainer Larry Hall
Middle Row: Joe Romero, Mike Odum, Jaime Lopez, Tom Hacker, Bob Irwin, Jerry Schuster (equipment manager)
Bottom Row: Tony Figueroa, Roy Castillo, Henry Faccio, Kevin Cummings, Lenny Morales, John Felix
When Tucson High School's baseball team arrived at the 1972 state championship tournament in Mesa, coach Ray Adkins' club was 22-0 and bidding for its first state championship since 1959. That 13-year period was considered a drought by the Badgers, who had won 26 state titles since the state began such competition in 1912. Tucson High was such a baseball power that it won five state championships in the 1950s and eight in the 1940s.
The '72 Badgers rewrote the standard of excellence. In three memorable days at Mesa's Rendezvous Park, the Badgers had to come from behind to win the semifinal and finals, finishing the season 25-0. "We've had so many good teams over the years,'' said Adkins, "but these guys just wouldn't give in. They were the most clutch team I've ever coached.'' Not to mention the most skilled.
The Badgers had a regular-season team batting average of .433. Shortstop Ron Hassey, who would become a long-time major-leaguer, hit a city-leading .486. Outfielder Mike Odum was close behind, batting .484. First baseman Al Lopez, who went on to play for Arizona's 1976 NCAA championship team, hit .340 with six homers. But the player who most helped the Badgers was senior pitcher Frank Castro. He went 13-0 as a pitcher with an 0.68 ERA. He also hit .426 as the team's cleanup hitter. "What Frank did in the state tournament was almost unheard of,'' said Adkins. Castro pitched 23 2/3 innings in three days, going 3-0. He pitched without a day between pitching appearances in the championship game against Chandler High. After Tucson fell behind 3-0 in the second inning, Castro pitched the final 6 2/3 innings of shutout baseball, striking out seven. He struck out 26 batters in the state tournament, allowing two runs in those 23 2/3 innings.
The championship game went extra innings after Tucson rallied to tie the game on a single by Terry Figueroa. In the bottom of the eighth, Lopez hit a home-run over the left-field fence, a towering, walk-off blast to win the game 4-3. "We lost to Chandler two years earlier in the championship game, but we had six sophomores starting on that team,'' said Adkins. "They were devoted to getting that championship.'' The six sophomores who became champions as seniors were Hassey, Lopez, Odum, Castro, Figueroa and catcher Jesus Lopez. The other starters in the title game were Kip Myrick, Henry Faccio and John Felix.
The '72 Badgers remain the only high school baseball team in Tucson history to go undefeated and untied.
— GREG HANSEN