Julie Walters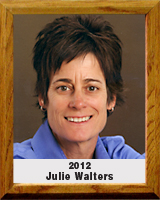 Inducted Class of 2012
Julie Walters came to the University of Arizona in 1981 to join the field hockey team only to have the program eliminated due to state budget cuts. She moved to soccer and competed in the Tucson Women's Soccer League from 1983 until 2008.
After graduating from the UA in 1985, Walters started her teaching and coaching career at Orange Grove Middle School in the Catalina Foothills School District. She coached softball, boy's and girl's coccer and baseball for six years, winning numerous titles.
In 1992-93 Catalina Foothills High School opened and Walters moved to begin the challenge ropes course program and start the boy's soccer program. During her 20-year tenure thus far, the soccer program has won four state titles and nine region championships. She has amassed more than 250 wins moving her into 4th in all time wins for boy's soccer in Arizona.
She has been named Soccer Coach of the Year in 1999, 2001, 2006, 2008, 2011 and 2012 and was a finalist for National Soccer coach of the Year 2001.
In 2003 Walters became the head coach of the boy's golf team at Catalina Foothills, winning one state title in 2009, three state runner-up finishes and numerous region titles. She was named Golf Coach of the Year in 2009.
As a female coaching two male sports, Walters has earned the respect and admiration of players, opponents, colleagues and spectators through her knowledge of the sport and genuine caring for her success in both programs.
Walters was named Teacher of the Year in 1998 and continues to positively influence the lives of students through her teaching in the Physical Education Department at Catalina Foothills High School.