Kathleen LaRose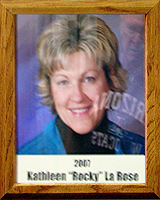 Inducted Class of 2007
Kathleen "Rocky" LaRose was an institution at the University of Arizona athletics department spanning a conference softball championship in 1979 as an infielder and clean-up hitter to becoming the 1st woman to serve as the UArizona Director of Athletics of a combined men's and women's athletics department in 2009-10.
 She also was the first woman in history, from the early 1990's until her retirement, to oversee the day to day operational responsibilities of UArizona's FBS Football and Division 1 men's basketball programs.  Along the way she served three times as the Pacific-10/12 Conference Vice President and was a member of the conference's Management Council for 25 years.
Throughout the majority of her UArizona career she was the department's C.O.O., overseeing the day-to-day operations of all 20 Division 1 sports programs and student-athletes services including academic services, medical services, equipment services, compliance, media relations and strength and conditioning.
Nationally, she served on several NCAA committees and the NCAA Management Council.  She also developed the award winning C.A.T.S. program that was adopted by the NCAA for all D1 institutions.
Rocky earned a bachelor's degree (1979) and a master's in education (1983) from the UA. As an athlete, Rocky played on the UA's Intermountain Conference championship team ('79), UA's first softball championship and on the ASA women's AAA fast-pitch National Championship team ('79).  She also competed on the USA softball team that competed in the World Cup Championships in Tokyo in 1979.
Rocky was the UA's Homecoming Queen in 1978 and was named one of the Outstanding Young Women in America. She has received several awards from local organizations, including Women on the Move and was inducted in to the UArizona Sports Hall of Fame in 2014. Rocky attended Alhambra High School in Phoenix and was named the school's outstanding athlete of the year in 1975 after winning the state badminton championship.
[This biography was written in 2021]