Kelley Sliva McKee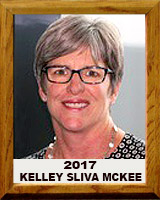 Kelley Sliva McKee graduate in 1979 from Catalina High School (Tucson, AZ) were she was recognized as an All City and State volleyball player. McKee earned a full ride volleyball scholarship to Pima Community College where she played for one season before transferring to the University of Arizona (3L) and earned a degree in exercise and sport science in 1985.
McKee's passion for the sport of volleyball evolved into a 21 year coaching career beginning in 1985 when she joined Rosie Wegrich's staff at the University of Arizona as an Assistant Coach (1985-1987). She then enjoyed a five year stint on Lisa Love's staff at Texas-Arlington and USC (1988-1992). The Sliva-Love tandem lead UTA and USC to four NACC tournaments.
Northern Arizona University hired McKee as their head coach in 1993, where she posted a career record of 143-104 (.579) and a 79-57 mark in the Big Sky Conference. While at NAU, McKee took the Lumberjacks to their first NCAA Volleyball Championship appearance (1999) and earned two Big Sky titles (1999 tournament & 2000 regular season). McKee was named the 1999 Big Sky Coach of the Year.
Every scholarship student-athlete that exhausted eligibility under McKee while at NAU has graduated with a degree. In 2009, the 1999 NAU Volleyball Team was inducted into the NAU Athletics Hall of Fame.
The University of New Mexico hired McKee as the head coach in 2002 to revitalize the Lobo program on and off the court. McKee spent five years building the infrastructure of the program at UNM and compiled a 47-97 record.
McKee retired from coaching in 2006. McKee currently serves as the Coordinator for the Student Success Coaching program at NAU and will graduate with a Master in Business Administration from NAU in May 2016.