Kelly Fowler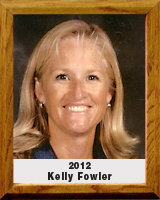 Inducted Class of 2012
At Marana High School from 1976-80, Kelly Fowler pitched every game for the school's softball team her junior and senior years. In 1980 Marana lost to San Manuel in the state championship game. Fowler also played two years of varsity tennis and four years of varsity volleyball.
A 1988 graduate of the University of Arizona, Fowler became head softball coach at Canyon Del Oro High School in 2001. She accumulated over 170 victories as head or assistant coach at CDO, including four stat championships. In 2004-05, she was named 5A Softball Coach of the year.
In 2001, Fowler became president of the Arizona Desert Thunder softball organization. She coached in 14 Amateur Softball Association national tournaments and has registered over 1,000 coaching victories associated with Desert Thunder "Travel Ball." Over 50 Desert Thunder players have gone on to Division 1 play at the collegiate level.
Fowler's two daughters, Kenzie and Mattie, have become softball stars at the University of Arizona and University of Nebraska respectively.