Larry Martinez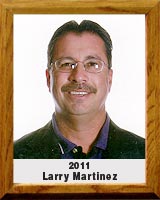 Inducted Class of 2011
Larry Martinez was an accomplished cross-country and track and field athlete, and later became one of the top coaches in the city of Tucson. In cross-country at Sunnyside High School, Martinez was first-team All-City and All-State his sophomore, junior and senior seasons. Sunnyside won a state championship his senior year and was runner-up his junior year. He also was named to All-Southwest and All-American teams and helped the Blue Devils to a No. 1 ranking in the southwest and a three-year dual meet record of 50-0.
On the track, Martinez was a state champion in the 880 as a junior and was runner-up as a senior in the mile. He set a state record for the mile (4:11.6) and a city record for the half-mile (1:54.6).
Martinez went on to compete for Pima College and Northern Arizona University. At Pima he was a 1976 Arizona Region champion and junior college All-American in cross-country. In track and field, he was the 1977 region champion in the 1,500 and an All-American. At NAU, he earned All-Big Sky conference awards in both sports.
Martinez coached girls' cross-country and track at Sunnyside and Desert View from 1991 to 1998, coaching several of his runners to region and state championships.