Larry Smith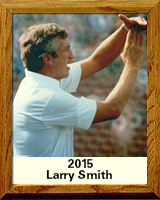 Inducted Class of 2015
Larry Smith was a native of Van Wert, Ohio where he was a three-sport star at Van Wert High School, graduating in 1957. He earned an appointment to West Point, but transferred to Bowling Green in 1962 with a Bachelor of Science in Mathematics and later earned a Master of Education from Bowling Green in 1967.
Smith would become known as a defense-oriented, no-nonsense coach. In 1967, he joined Bo Schembechler's staff at Miami servings as defensive end coach for two seasons. He then moved with Schembechler to Michigan servings as the offensive line couch for four seasons (1967-72).
When fellow assistant Jim Young (also a native of Van Wert, Ohio and a high school football teammate) was hired as head coach at Arizona, Smith moved with him and served as the assistant head coach/defensive coordinator there for three years (1973-75)
Tulane hired Smith as their head coach in 1976. In four years his record was 18-27. His 1979 team was 9-3 and attracted a lot of attention and he was hired away by Arizona in 1980. It was the Wildcats third season in the Pacific-10 conference along with rival Arizona State. They both joined the former Pacific-8 in 1978.
Smith put great emphasis on in-state recruiting, built up the rivalry game with ASU and focused the team on what he called "running and hitting." Under his leadership, the Wildcats became competitive in the conference. The Cats began dominating the rivalry with the Sun Devils, and culminated with consecutive bowl appearances in the 1985 Sun Bowl (tied with Georgia) and the 1986 Aloha Bowl where they beat North Carolina and this was Smith's final season at Arizona.
Smith spent six years at the University of Southern California (1987-92) and compiled a record of 44-25-3 with five bowl appearances. His last head-coaching job was at the University of Missouri from 1994-2000 and he compiled a record of 33-46-1.
After leaving Missouri Smith and his family moved back to Tucson. In 1999, he was diagnosed with Chronic Lymphocytic Leukemia, which would ultimately claim his life. He passed away in Tucson of January 28, 2008. He and his wife Cheryl had a son Corby and a daughter Alicia and several grandchildren. Coach Smith's final head coaching record was 143-126-7.