Lawrence Aguilar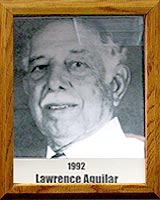 Inducted Class of 1992
From Sonora, Mexico, a 2-year-old Lawrence "Aggie" Aguilar migrated to Pima County. Over the decades he was the best of all sports-minded and sports-participating individuals. When he discovered baseball, Aggie found a lifelong love.
At Roskruge Jr. High and at Tucson High School, he developed and honed his skills. But more importantly, he embraced the proper attitudes of competitive sports. Aggie ventured into football when he coached the Safford Jr. High Yankees vs. Phoenix in 1938 game played at The University of Arizona stadium.
He officiated basketball in City Leauge Play, managed the Manhattan Chargers during the 1940s (City Softball League); played pro ball for the Nogales Internationals; played against the legendary Joe DiMaggio at Santa Ana Air Base in 1942; and took the field (along with Hank Leiber and Bud Grainger) for the Tucson Cowboys pro team in 1946. Selected Most Valuable Player by the Phoenix Thunderbirds (semi-pro) in 1939, Aggie was still going strong in 1952 when he was named MVP in the Tucson Softball District Tournament.
He was inducted in the Southern Arizona Hall of Fame (Men's Fast Pitch Softball) in 1978. Aggie was a favorite of teammates and competitors due to his respect for their abilities, their sportsmanship and their involvement in team sports controlled by "rules of the game." Event umpires and other officials recognized Aggie for his devotion to fair play and consideration for the other guy.