Lety Pineda Boutte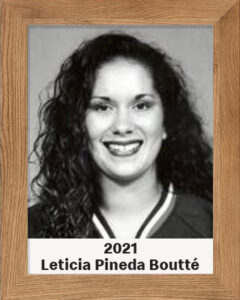 No one formally named the left field bleachers at Hillenbrand Stadium "Lety's Legion,'' but from 1995 to 1998, it was routine for 20 to 25 family and friends of three-time Wildcat All-American Leticia Pineda to show up and shout.
They had a lot to shout about.
Pineda was a first-team All-American in 1995, 1996 and 1997 at three positions: catcher, third base and first base. She was the heart and soul of Arizona's 1996 and 1997 national championship teams.
Pineda, who is No. 85 on our list of Tucson's Top 100 Sports Figures of the last 100 years, played on UA softball teams that, remarkably, went 252-24 (.913).
If you had been paying attention to Tucson's youth softball leagues in the late '80s, you might have seen it coming.
The daughter of Robert and Blanca Pineda was a softball protege like no one before her in Tucson history.
"Lety could've started for any high school team in Tucson when she was in the seventh grade,'' said Bert Otero, her Desert View High School coach.
It didn't happen by accident.
Robert and his older brother, Lino, were gym rats from Sunnyside High School in the late '50s and early '60s who played in every conceivable baseball and softball rec league and adult league in Tucson until both were in their 40s.
It first rubbed off on Lety's older sister, Laurie, who was 6 years older. Lety did the old "tag-along'' routine, learning from Laurie and her teammates, and especially learning from her dad, who began coaching Lety's youth league teams when she was 7.
As a Desert View senior in 1994, Pineda hit .528. Coaches from Oklahoma and Florida State phoned, but UA coach Mike Candrea was a step ahead.
"I'd have to attribute her development to her upbringing,'' Candrea said in 1994. "She's got a great family. I saw a very dedicated young lady with a great work ethic.''
It wasn't all about softball, either. Pineda completed her Desert View education with a 3.98 GPA and graduated No. 8 in a class of 319 students.
Pineda's softball statistics speak loudly. She hit 52 home runs at Arizona, which at the time was No. 13 in NCAA history. Her 240 RBIs remain No. 8 in Wildcat history. In 1996, she drove in 96 runs. At the time, that was the fifth-highest total in college softball history.
Having admired her coaches — her father, Otero and Candrea — Pineda was determined to become a coach herself. She began at small-school Colorado College, advanced as an assistant at Creighton and Purdue and then became the head coach at Washington University in St. Louis.
She was an outstanding coach, going 351-133 in 11 seasons before retiring in 2017 to concentrate on raising a family. She met her husband, Shawn Boutté, while he was stationed at Davis-Monthan Air Force Base. Today, their 15-year-old daughter, Lori, is considered one of the elite softball prospects in the greater St. Louis area.
Lori Boutté has learned well from her mother. On Halloween 2019, she wore her mom's old UA softball uniform, Jersey No. 7, for the day's festivities.
— Greg Hansen