Lowell Bailey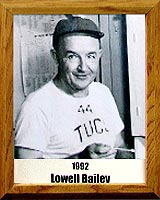 Inducted Class of 1992
Lowell C. "Tedd" Bailey came to the University of Arizona from Ohio State in 1981 and became a catcher for "Pop" Mckale. It was while hunkered down behind the plate that her earned the moniker "Teddy Bear," a nickname that was later shortened to "Tedd" and which he proudly wore for the rest of his life. Tedd's accomplishments were many.
He played semi-pro baseball for Jerome Miners in the "rock 'em- sock 'em" days of 1923-24. Later, as a coach at Safford Jr. High, he instituted tackle football at the junior high level, and while coaching at Tucson High School, was one of the first sports trainers (in football and track). Known for his strong arm and hot bat, Tedd was a catcher in the Old City Softball League for many years, where the crowd was disappointed if he didn't hit at least one homer in every game. And "he could throw that softball in a flat, straight line from centerfield to the catcher!"
Tedd's dedication to the youth of Tucson, especially young-Mexican-American boys, was legendary. Along with "Porky" Patten, Bill Westerveld and Jerry Hauck, he organized the first after-school program for 16 years. Because there was no money for letters, Tedd bought the material and his wife Marie hand-stitched every one.
If you happen to be one of Tedd's "boys" who still has one of those special letters, cherish it. It was born of much love.