Marana High School 1982 Girls Basketball Team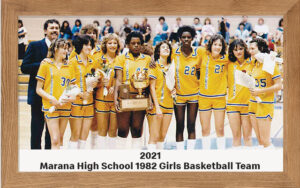 After finishing second in the 1981 girls state basketball tournament, Marana High School coach Mike Dyer suspected he might have a special, once-in-a-lifetime type team.
His senior guard, Vickie Patton, was the state's leading player, any classification. She was surrounded by returning standouts such as Pam Washington, Carolyn Bratton, Jan Willoughby and Barbara Tarkington, all capable of scoring in double figures any night.
The '82 Tigers burst out of the gate, going 20-0 before losing the year's final regular season game to Safford.
A rematch with Safford took place in the Class 2A state finals after Marana rolled past No. 2 ranked Flagstaff in the semifinals, 60-44.
A day later, Marana got revenge for its only loss, defeating Safford 65-44 for the first of what would be four state championships by Dyer and Marana High.
Patton scored 22 points in the title game. Washington 17. Also part of the championship team was Vickie's sister, freshman Patty Patton, who would go on to play for a state title at Marana and then coach Catalina Foothills to the 1997 state championship.
Marana wasn't shy about its goal of winning the title game. On the west wall of the Marana High gymnasium was a painting of the state championship trophy. Underneath, someone painted the slogan: "Go For Gold.''
At 24-1, the Tigers indeed had a golden season.
Dyer went on to be inducted into the Arizona Coaches Hall of Fame and the Pima County Sports Hall of Fame.
A graduate of Ray High School, Dyer attended ASU and earned a Master's degree from the UA.
He started his teaching/coaching career at Mayer High, but settled early at Marana. He coached football and baseball in the beginning at Marana, but he took over the girl's basketball program in 1977. How'd it go?
He retired after 26 years in 2003 with 400 wins and only 151 losses.
His Lady Tigers won 12 league championships to go with the 1982, 1985, 1988 and 1989 state championships.
— Greg Hansen