Mark Hardy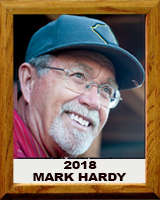 Mark Hardy was born in Tucson in 1951 and started his tennis career as a freshman at Catalina High School. He was awarded a varsity letter in each of his four years. In his career at Catalina the team won the state title in his freshman, junior and senior years. In his junior year, with partner Bill Hoshaw, they won the state championship in doubles. As a senior, he won the state singles championship.
Mark accepted a scholarship to the University of Arizona to play tennis at the college level. During his years at the U of A, the team enjoyed top ten national rankings. Mark and his brother Craig, achieved the #1 ranking in doubles in the Southwest section in 1976.
In 1978, Mark embarked on his professional playing career. Playing the USTA Penn and American Express circuits, he quickly earned an ATP world ranking of 278. In his first career tournament, The Jackie Cooper Open, in Oklahoma City, he finished as runner-up in the singles. In his second tournament, he and doubles partner Bill Hoshaw won the doubles title. Playing for two years, he maintained a top 300 ranking and retired from his playing career after losing in the qualifying rounds for the 1979 US Open.
Mark returned to Tucson and started working as a teaching professional. In 1992 and 1993, Mark was hired by the USTA as an international traveling coach for the US Junior National team with trips to Paraguay, Brazil, France and Italy. In 1995, Mark won a coveted "gold ball" and singles title in the National Championship in the men's over 40, and added a runner-up in the National Doubles the following year.
For the last 19 years Mark has enjoyed teaching the game he loves at the La Paloma Country Club in Tucson, AZ as the Head Tennis Professional. For almost 50 years he has been helping players at all levels learn and enjoy the great game of tennis.