Nanci Reid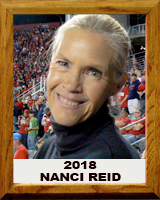 Nanci is a 1972 graduate of Palo Verde High School where she excelled both as a student and an athlete. Not only was she the Student Body President and a Girl's State Representative, she was an outstanding athlete – excelling in badminton, basketball, volleyball, and softball.
Nanci attended the University of Arizona from 1972-75 where she participated on the badminton, basketball, volleyball, and softball teams. Although her participation was during the early stages in the implementation of Title IX, Nanci participated in the College World Series where she excelled as a catcher for the University of Arizona Softball team.
During her tenure as the Interscholastic Coordinator for the Tucson Unified School District, Nanci worked with athletes at nineteen middle schools for twenty-five years. She had a direct impact on tens of thousands of students in Pima County. She developed the entire middle school athletic game schedule, assignment of all game officials, payment of coaches and workers, coordinated the season ending tournaments, scheduled the buses, and purchased uniforms and equipment for TUSD's 19 middle schools. On top of that, she coordinated all of these activities with these 19 middle school administrators!
Nanci's work "touched the lives" of countless student athletes and coaches. Through her leadership, TUSD middle school programs grew into ones that were respected for quality, display of sportsmanship, and reflection of the true meaning of school sports programs. Nanci also taught and trained hundreds of coaches and always modeled "doing the right thing" in teaching them the values that are important as they worked with their student athletes.
At the conclusion of her 25 years with the TUSD Interscholastics Department, Nanci was presented with the Lifetime Recognition Award. Her colleagues still talk of her sense of honor and her dedication to student athletes, coaches, parents, and officials.
Nanci not only served the Tucson Unified School District for 25 years, but she also served students in Pima County as a coach at St. Peter and Paul, Sahuaro High School, Pima Community College, and as a high school volleyball, basketball, and softball official for the Arizona Interscholastic Association.
Somehow she found the time to volunteer as a tournament coordinator for the San Manuel High School softball program, officiate for the Catholic Youth Organization, and read with exceptional education students at Catalina High School.
Nanci always worked "behind the scenes" without much notice or public recognition. Her reputation among middle school coaches, athletic directors, school administrators, and parents was stellar and unmatched in her twenty-five years in TUSD athletics. Her thirty-five plus years of dedication to all aspects of Pima County sports exemplifies an individual whom the Pima County Sports Hall of Fame has recognized. Nanci quietly made a name for herself and embodies one of the missions of the PCSHOF: to inspire individuals of all ages to reach their full potential in sports.