Neal Manning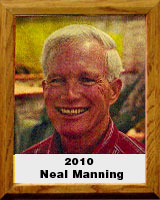 Inducted Class of 2010
Neal graduated from Tucson High School in 1960, where he participated in football and baseball and played on the 1959 state championship baseball team; the 1960 state runner-up baseball team; and was co-captain on the 1960 football team that made the state semi-finals.
In 1959, he was named to the American Legion All-Star baseball team. He was invited to play his first game of handball with former University of Arizona football coach "Gentleman Jim" LaRue on the old wooden handball courts east of Bear Down Gym.
Graduating form the University of Arizona in 1965, Manning resumed his handball career in 1971. Before being inducted into the U.S. Handball Association Grand Masters Handball Hall of Fame in 1993 Manning won 35 tournaments, including 19 National Masters events, and 3 World Masters tournaments. Additionally, he had 35 second or third place finishes in nationals or regional tournaments.
Manning also has competed in 35-plus endurance-type single-day (27-52) hikes over the last 25 years. All of these hikes were in serious Terrain, including the Grand Canyon, Catalina Mountains, and Rincon Mountains. He also has rafted many whitewater rivers in the Arctic Circle, Yukon Territory, Oregon, Idaho, California, Utah, Arizona and Central America, working both as an oarsman/boatman and guide. He has rafted the Grand Canyon 29 times.
Manning was one of the founders of one of the first private men's and women's athletic clubs in Tucson, the Tucson Athletic Club, which opened in 1974. He was part of a team that relocated the United States Handball Association from Chicago to Tucson.
Manning also was instrumental in founding the "Yes to Kids' foundation and is a board member for the program that assists disadvantaged children in learning to play handball, compete in life by staying in school, out of trouble, and staying focused on a positive future.