Norm Patton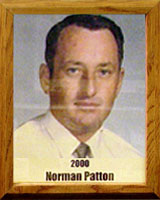 Inducted Class of 2000
This biography was written in 2021.
Norman J. Patton July 1, 1939- September 14. 2016
Norman Patton coached boys basketball at Marana (Arizona) High School from September, 1965 through May, 1973. Each of those teams qualified for the State Tournament, winning three State Championships: 1969 Class B (24-0), 1970 Class B (24-5), 1972 Class A (25-0). He also led his teams to six Conference Championships and earned State Runners-up twice.
Patton was named Arizona High School Basketball Coach of the Year in 1969 and 1972.
Patton also worked as an assistant to head football coach Don Hawkins. In 1969-70, Marana won State Championships in football, boys basketball, baseball and boys track and field.
Marana High School named its basketball gymnasium in honor of Coach Norm Patton on December 5, 2019.
Patton began the first men's basketball program at Pima Community College in August, 1973 and coached there until May, 1980. His 1979-80 team won the Arizona Community College Athletic Conference (ACCAC) Championship as Patton earned ACCAC Coach of the Year honors.
Patton then coached basketball at Central Arizona Community College in Coolidge from August, 1981 to May, 1994. His Central teams won ACCAC Championships in 1984 and 1992. His teams won National Junior College Athletic Association (NJCAA) Region 1 Championships in 1982, 1984, and 1992. His 1991-92 team finished 6th at the NJCAA National Tournament.
Norman and Sandra Patton are the parents of Lori Patton, Kelly Fowler, Vickie Patton, and Patricia Patton Shearer. Grandchildren include Kenzie Fowler Quinn, Mattie Fowler Burkhardt, Sandra Freeman, Grant Freeman, and Baylie Shearer. The family holds more than 20 playing and coaching State Championships in the sports of basketball, softball, and swimming.