Oscar Reyes Romero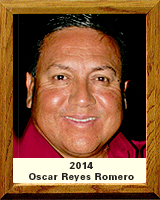 Inducted Class of 2014
Oscar Reyes Romero (Big O) was born and raised in Tucson, AZ. He attended Tucson High School from 1974 – 1978, where he played baseball for coaches Ray Adkins and Tom Lundy. He then played two years at Pima College for coach Rich Alday from 1978-1980, transferred to the University of Texas at El Paso and played for coach Jim Lawler from 1980-1982.
Romero has taught at Tucson High School his whole career from 1985 to current, and was the Head Golf Coach at Tucson High School from 1988-2011 and has coached baseball from 1983 to present. The Arizona Daily Star and the Tucson Citizen named him Coach of the Year in 1990, 1997, 2002 and 2013. He has been named Tucson Hispanic Coach of the Year twice by Luz Academy, coached in three-5A division 1 All State All Star games and received the AIA division 1 section 2 Coach of the Year in 2013.
Romero has coached American Legion baseball under commissioner Bud Grainger since 1985 to the present. He has won 9 state championships in American Legion Baseball and the team won the 2007 western Region Championship in Salt Lake City, Utah. That team finished third in the 2007 World Series in Bartlesville, Oklahoma.
Romero was All City Baseball Player, All State and All District Western Region 3rd baseman in 1978, voted Best Incoming Baseball Player at Pima College in 78/79 and was named Co-captain in 1980 with Garret Nago for the Pima Baseball Team.
On April 18, 2014, Romero won his 400th varsity game as head coach at Tucson High School. He owes his many thanks for the love of the game of baseball to his late parents Esther and Augustine Romero.