Pam Reed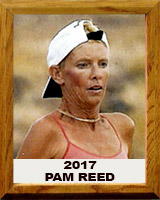 Pam Reed was an all around athlete at Negaunee High School in Nagaunee, Michigan. She graduated in 1979 and attended Michigan Tech where she was an avid tennis player. She transferred to the University of Arizona and graduated with a degree in Business Administration in 1984.
Pam's first love was tennis! Pam started running only as a means of conditioning for tennis. When she was in Michigan, she taught Aerobics to a men's hockey team and came in dead last in their ten mile run. So, even in the beginning, this world famous ultra-distance runner started off inauspiciously. After she got married and moved to Tucson with her husband, she joined a running group while she was attending the University of Arizona. She hated track, but loved long distance running.
Long time Tucsonan ultra-runner Bennie Linkhart took Pam under his wing and started showing her the beauty, strategy, and pleasure of long distance and ultra-distance running. Bennie even led one of Pam's Badwater crews when she won the overall race for the second time. Pam's husband (UA grad Jim Reed) once signed them up for the Elkhorn 100 – they both came in dead last. He then signed them up for the Wasatch 100, and they both did better: Pam went on to run this race 14 times-most recently in 2016. But, it was the Badwater 135 mile Ultra Marathon in Death Valley that changed her life in 2002. Pam, the mother of five, won the event" winning the overall race in a time of 27:56:47.
Pam has been featured on the Late Show with David Letterman and 60 Minutes. Pam and her family live in Jackson, Wyoming. She continues to be the long tine director of the Tucson Marathon-run annually since 1995. Pam says one of the achievements that she is most proud of is that in 2015, she ran the most famous 100-mile runs back to back to back: Western States 100, Hardrock 100, and the Badwater. In this ultra-marathon series: the Western States is considered the oldest 100, the Hardrock is considered the hardest 100, and the Badwater is considered the hottest ultra.
As you will see in Pam's history and accomplishments, she has rm1Badwater 11 times where she was a 2Htime champion, was the 2003 USA Track & Field Women's Ultra runner of the Year, Gold Ironman All World Athlete, and 24 hour American women's record holder in the 138.96 mile run. She has completed over 100 ultra marathons, ran the Boston Marathon two times in one day, the Leadville 100 several times, and the Arrowhead 135 race in Canada. Pam has amazingly completed 49 Ironman competitions.
Pam is also an author and works with children and young adults with obesity and eating disorders. At age 56, Pam is still going strong!