Pat Darcy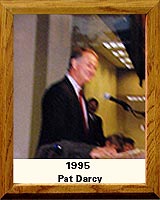 Inducted Class of 1995
Pay Darcy grew up in Tucson and was always involved in sports. In 1968 he was outfielder/pitcher on the Rincon High School baseball team that finished second in the State Tournament. He and another Rincon alum from the class of '68, Jim Crawford, both went on to play in the "Big Show."
At Mesa Community College, where Darcy played baseball under the late Jim Brock, Pat attracted the attention of major league scouts and signed a bonus contract with the Houston Astros. In 1974, he joined the Cincinnati's Big Red Machine during the heated pennant race with the L.A. Dodgers and, in his first major league start, won 6-2 over Atlanta and singled in his first official at bat.
In 1975, Pat had an 11-5 record as a starting pitcher for the World Champion Reds. In the '75 World Series, in two appearances against Boston, he became the first person from Tucson to pitch in the World Series. During the 75-76 season, he won ten consecutive games.
After retiring from the pros, Pat received his B.A. from the University of Arizona. Pat was a leader in getting the Colorado Rockies to locate in Tucson for spring training. Still a Tucson resident, he has coached semi-pro and youth league baseball and softball teams and often speaks to youth groups about sports and the importance of education. As incisive sports interviewer/reporter, Pat has hosted two very popular sports-talk programs, "The Press Box" and "One-on-One" on Tucson's 99-AM KTKT Radio.