Paul Colwell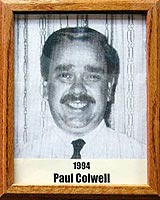 Inducted Class of 1994
For this 1967 graduate of Catalina High School, the numbers tell the story. Paul holds 11 city and state titles, 5 city and state junior titles, 10 National Tour Professional titles, 2 Major (ABC Masters & PBA National) titles, 3 ABC titles, 2 regional titles, and has 11 three-hundred games to his credit. We're talking serious bowling here! In fact, Paul was named Tucson Athlete of the Year in 1975, the same year he set the record for the ABC Masters.
A member of the Professional Bowlers Association and a 1991 inductee into the PBA Hall of Fame, Paul has coached in junior, individual beginners and intermediate advanced programs, as well as professional bowling camps.
Colwell is also a member of the Tucson City and Arizona State Bowling Halls of Fame. Paul has been a television commentator; a University of Arizona Bowling Team coach; and has been active with the Arizona Families for Children and Muscular Dystrophy bowl-a-thons. Professionally, he has twice been a member of the All American Team.