Phil Gruensfelder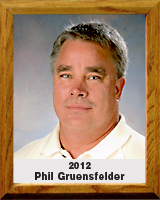 Inducted Class of 2012
A graduate of Canyon del Oro High School (1979), Gruensfelder earned seven varsity letters in football, wrestling and track. CDO's 1977 football and wrestling teams won AA state championships.
Gruensfelder began his coaching career in 1983, after graduating from the University of Arizona, as an assistant in a variety of sports. He became head softball coach at Salpointe Catholic High School in 1995. He compiled a 259-97-3 record over a decade, reaching the state quarterfinals four times, the semifinals twice as well as finishing second in 1999 and winning the state title in 1996.
Gruensfelder has been director of athletics at Salpointe from 1999 to the present and has been instrumental in starting many programs at the school. Those include Lancer Game, which requires that all varsity level sports teams at Salpointe attend another team's competition within the Salpointe community; athletic/academic intervention in which student-athletics work with teachers and administrators to remain successful in the classroom; and Games for the Greater Good in which each varisty team is required to do a community service project.
Gruensfelder was honored as Coach of the Year by both the Arizona Daily Star and Arizona Republic in 1996 and was named Athletic Director of the Year by 5A Southern Region Athletic Administrators in 2009-2010. He was inducted into the Salpointe Catholic High School Sports Hall of Fame for his 1996 softball state championship.