Ralph Deal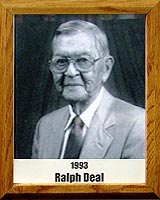 Inducted Class of 1993
After many years of officiating, we can safely say that Ralph Deal is one man who goes by the rules.
Of course, there was that one time, after the last Salad Bowl Game in Phoenix, for which Ralph was paid $100 as a referee. But because the attendance was so small and he knew the organization had lost money, he sent back $10 of his salary. Later he read the newspaper that the game had made a profit… of exactly $10. True story.
Ralph Deal cut his teeth on sports at Mesa and Phoenix Union High Schools (graduate 1925), and later at the University of Arizona where he was graduated in 1929. While at the University of Arizona, he played intramural baseball and softball for four years and was a substitute quarterback for three seasons. He also played baseball in Phoenix Industrial League during the '30s, where he played "every position at the manager's desire."
Ralph refereed a season of semi-pro football; officiated 6-man and 11-man football in Tucson and Southern Arizona (1937-61); officiated in the Border Conference in the '40s; and is a past president of the Border Conference Officials. He also lectured extensively on the rules of football for several years.
Ralph was a 1971 inductee to the Arizona Sports Hall of Fame.