Randall Moore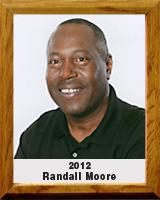 Inducted Class of 2012
A graduate of Pueblo High School in 1976, Moore was a first-team all-city basketball player as a junior and senior and was named all-city captain and first team all-state as a senior, averaging 26.7 points a game. At Abilene Christian University, Moore earned first-team Lone Star Conference all-star honors and was a third-team NAIA All-American selection.
Moore started his coaching career at the junior high level. In 1988 he became the head basketball coach at Pima Community College. His 1990 team went 24-7, setting a school record for most wins. In 2000 he was named the Arizona Community College Men's Basketball Coach of the Year.
Moore spent three seasons as an assistant basketball coach at Northern Arizona University before becoming interim athletic director at Pima Community College, the first African-Amercian to be name to that position. In 2011 he became the first African-American head basketball coach at Pueblo High School.