Richard Sanchez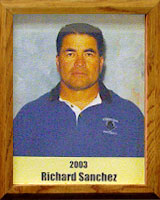 Inducted Class of 2003
Richard is a graduate of Pueblo High School (1975) where he was a state wrestling champion (individual and team, 1975) as well as winning several AAU wrestling titles.
A 1979 graduate of the University of Arizona, he was the Sunnyside High School freshman wrestling coach from 1984-1988 during which he had a 40-0 record. As freshman football coach from 1981-83, he was 16-0. He became the assistant varsity coach in both sports from 1984-88. From 1990-94 he was Sunnyside's head wrestling coach. They won five state championships, five regional titles and he was Coach of the Year and coach of the All-Star wrestling team for five years. In 1993 his wrestling team was ranked in the top 10 nationally. In 1994 Coach Sanchez became the head varsity football coach where he still remains. So far his teams have had six playoff appearances and won four regional titles. In 2000 he took Sunnyside to its first appearance in the state championship game. In 2001 he took them to its first state title and he was named "Coach of the Year."
In 2002 he received the Individual Achievement Award from Chicanos Por La Causa; the Hispanic Sports and Academic Achievement Award named him Arizona Coach of the Year; and Barry Sollen Bergus of Arizona Prep Football Magazine named him Coach of the Year. The Arizona Cardinals named him its Coach of the Year in 2001 and the Arizona Coach's Association recognized him as its all-star football coach.