Rick LaRose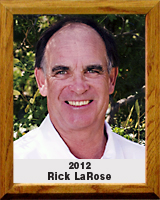 Inducted Class of 2012
The highly successful head-coaching career of Rick LaRose at the University of Arizona came to an end in May when he retired. LaRose spent 39 years as a UA head coach, second only to legendary Fred Enke's 41 seasons.
LaRose came to the University of Arizona in 1973 as head water polo and assistant swimming coach. He guided the water polo team to four regional championships and three fifth-place finishes in the NCAA Championships. His teams were never ranked out of the top six nationally.
After the school dropped the sport of water polo, LaRose took over the men's golf team in 1978-79. Twice he took over the women's program for a brief time and his is the only coach in NCAA history to win both men's (1992) and women's (1998) national championships. LaRose's teams were ranked in the top 20 in 26 of his 34 season, including a string of eight years that the Cats were ranked in the to three nationally. Thirteen times UA was ranked No. 1. His teams won 61 men's and 19 women's tournaments. He coached seven national players of the year and won seven MCAA regionals and four Pac-10 titles.
LaRose has been inducted into the Golf Coaches Association of America Hall of Fame and the Arizona Golf Hall of Fame.