Robb Salant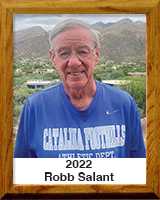 Robb Salant broke onto the Tucson tennis scene when he was 13, winning the 1960 city championship for boys 13-under. And then his career really took off.

At perennial state power Catalina High School, Salant won the state singles championship in 1962 and 1963 and would've been the heavy favorite to win it again in 1964. But his father, Richard, accepted a job as a professor at the American University in Beirut, Lebanon, and Robb moved with his family to Lebanon to continue his studies.

It wasn't that he took the year off from tennis. In 1964, Salant won the Lebanon Interscholastics tennis championship.

He returned to Catalina in 1965 for his senior year and won the state doubles championship.

Recruited to the University of Arizona, Salant joined what was then a Top 10 men's tennis program, finishing three times in the quarterfinals or semifinals at the NCAA championships. He became a regular on some of the top UA tennis teams in history.

His skills as a tennis instructor and coach became known in the community when he became the pro at the new Sheraton Tennis and Swim Club for several years.

He jumped to high school coaching in the 1980s, and in 1989 led Rincon High School to a state championship, as his star singles player, Sudhakar Kusaraju won his first of three consecutive state singles championships.
Along the way, Salant continued his excellence as a tennis player. He was part of a Tucson team that won the USTA senior team national championships in 1996 in Palm Springs, California
.
When Catalina Foothills High School opened in the early '90s, Salant was hired to be the Falcons' first boys tennis coach. Talk about a home run.
Salant would go on to coach Foothills to eight state championships over a 20-year period, including a historic seven consecutive titles from 2005-2011. He also coached Foothills to second-place finishes in the state on three occasions.

He produced state champions such as Eric Joseph, Sam Sufi, Curt Miller and Zach Haffer.

The Falcons didn't just squeeze past opponents while winning eight state championships. They beat Phoenix-area powerhouse Scottsdale Chaparral in the team finals four times, by scores of 5-0, 5-0, 5-1 and 5-1. Salant's Foothills team also beat Phoenix Millennium, Ironwood Ridge, Prescott and Sabino in state championship finals matches.

Salant retired after coaching Catalina Foothills in 2012.