Robbie Moen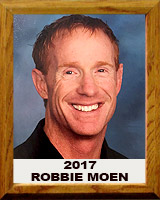 Robbie Moen was born to hit a baseball. As he got older people joked that he would roll out of bed and hit a line drive. Across Pima County, he played Little League Baseball, Connie Mack, and American Legion baseball. Robbie started at shortstop as a sophomore on Varsity at Flowing Wells High School and did not relinquish that position while in high school. He was a three time All- Conference shortstop for the Caballeros hitting .473 his sophomore and Junior seasons.
Robbie also played Varsity Football for three years at Flowing Wells High School. He started as a wide receiver, quarterback, and defensive back. As a junior, Robbie was an All-Conference and All-State Wide Receiver. His greatest high school athletic accomplishment was scoring five touchdowns in one game vs Rincon. His senior season saw him become an All-Conference defensive back for the Caballeros.
In 1989, Robbie was named the State of Arizona Student/Athlete of the Year. Upon graduation, he received a baseball scholarship to the University of Arizona where he was a three time All Six-Pac player, a two time All-American, and a SixPac Champion in 1992. In 1993, he was part of the UA baseball team that came within four outs of a trip to the College World Series with a gut wrenching loss in a final game to Oklahoma State.
Post-graduation, Robbie was named a member of the All-Century Team for the University of Arizona's Baseball program. He is the Arizona single season leader in Pac-10 Conference at-bats (139), hits in a conference season (52), 1st in career multi-hit games (102), along with being in the top 10 in fourteen other offensive categories.
Robbie graduated with a Bachelor of Science in Health Sciences from the University of Arizona and immediately returned to his alma mater high school to became a middle school science Teacher.
After a short time teaching, Robbie pursued his dream of college coaching with Kansas State University and Loyola Marymount University in Los Angeles, California. After 11 seasons of college coaching, and mentoring over thirty players drafted by Major League Baseball, Robbie explored other areas of baseball as a professional baseball scout for the Tampa Bay Rays. In his seven seasons with the Rays, Robbie had 26 of his players get drafted and signed. Baseball runs deep for Robbie and his passion for the game continues to grow while coaching and teaching kids in Frisco, TX today.