Rodney Peete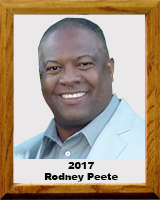 NFL veteran quarterback Rodney Peete, best known for his leadership and a winning attitude. Born in Mesa, Arizona, Peete excelled in all sports and activities. At Sahuaro High in Tucson, Arizona, Peete led his teams to state championships in basketball and baseball and he was named Arizona High School Athlete of the Year as well as an Academic All-American.
Peete holds a B.A. in Communications from University of Southern California where he was a First Team All-American, Winner of the 1988 "Johnny Unitas Award" for Best Senior Quarterback, and the 1988 Pac-10 Player of the Year.
He spent 16 successful years in the NFL. During those 16 seasons, Peete was named to various All-Rookie teams, led two different franchises to the playoffs, had a winning record as a starting QB and retired after his NFC championship season and Super Bowl XXXVIII appearance with the Carolina Panthers.
Peete went right from the gridiron to co-hosting "the Best Damn Sports Show Period" on Fox. Peete can also be seen hosting a variety of NFL and College preview and recap shows for Fox, Fox.com. Rodney also hosted a daily radio show with his wife Holly, called "Meet The Peetes" on "Oprah and Friends, XM 156". Currently Peete is hosting his own radio show called "Lunchtime with Roggin and Rodney on AM570 LA Sports."
He is co-founder of the HollyRod Foundation, a 501 (c)(3) organization established to generate funds to fight Parkinson's disease, children suffering from Autism, and improve the quality of life for those in need.
In early 2016, Peete opened his home to a family docu-series "For Peete's Sake" airing on the OWN Network. The show is currently in its second season. In March 2010, Peete authored his first book titled "Not My Boy 'A Father, A Son and A Family's Journey with Autism'. "
Peete is a member of the Arizona Sports Hall of Fame, The USC Hall of Fame and he serves on the Board of Governors at his alma mater.
Peete made a smart acquisition of his own on June 10, 1995, when he married the lovely television star Holly Robinson (21 Jump Street, Hangin' ·with Mr. Cooper, For Your Love.). The Peetes are proud parents of four beautiful children, twins Ryan Elizabeth and Rodney Jackson, Robinson James and the youngest, Roman Matthew. The family resides in Los Angeles.