Roland LaVetter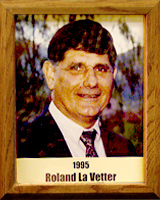 Inducted Class of 1995
A native Tucsonan, Roland LaVetter was educated entirely in TUSD schools, including Sam Hughes Elementary, Mansfeld Jr. High and Tucson High and completed the circle at the University of Arizona where he obtained his B.A. and Master's degrees.
He served for 28 years as a social studies teacher for students from the 9th through 12th grades at Pueblo, Rincon and Catalina high schools. A parallel to his teaching career was service as senior class and student council advisor and athletic administrator. Roland's basketball teams at Pueblo and Rincon won five league titles, four divisional and back-to-back state championships in 1977 and 1978. The 1978 team was ranked No. 1 in the Southwest and No. 4 in the United States.
His accomplishments included being named Basketball Coach of the Year by the Tucson Citizen, Arizona Daily Star, Arizona Republic and Phoenix Gazette. He has received the Tucson Conquistadores' Achievement Award and was selected to coach the South All-Stars. Roland says one of his great honors has been his association with the gifted coaches who currently head programs at four TUSD schools. The 1978 Warriors were honored as the High School Basketball Team of the Century by the Arizona Daily Star.