Roxanne Taylor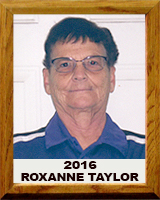 Inducted Class of 2016
After achieving her 400th coaching victory as Rincon High School's Boys' varsity soccer coach in 2016, Roxanne Taylor became the winningest female soccer coach in Arizona. The year 2016 also marked the fifth time she was named the Southern Arizona State Coach of the Year (in addition to 1997, 1998, 2007, and 2009).
Since Taylor began coaching soccer at Rincon in 1986, she had led her teams to win three State Championship titles (1996-97, 1997-98, and 2006-07) as well as numerous regional championships.
Taylor's coaching career began when her eldest daughter began playing soccer in 1976 with the American Youth Soccer Organization (AYS0). As her other two daughters and nephew also grew up playing soccer, she coached them in AYSO as well as the Pima County Junior Youth Soccer League, essentially coaching youth soccer continuously into the early 1990s.
Throughout her time coaching soccer she also found the time to coach her children's various t-ball, baseball, and softball teams through Cactus Little League. From 1997-99 Taylor added varsity girls' softball at Rincon High School to her coaching resume.
A graduate of New Berlin West High School in Wisconsin, Taylor moved to Tucson Arizona in 1972. In 1992 she graduated from the University of Arizona with a Bachelor of Science degree, majoring in physical education. She then received her Master of Education in School Counseling from Northern Arizona University in 2001, graduating summa cum laude. She went on to become a guidance counselor at various Catholic schools in Tucson and is currently the director of counseling at San Miguel High School.