Sam Khalifa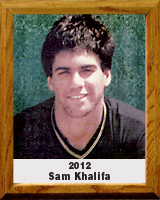 Sam Khalifa was the 7th pick of the 1982 Major League Baseball draft. He was selected by the Pittsburgh Pirates.
A graduate of Sahuaro High School, Khalifa was the starting shortstop for three years. Sahuaro lost in the state semifinals in his sophomore season and won the state title in his senior year of 1982.
Khalifa signed a letter of intent to attend Arizona State University but turned professional after being such a high draft pick. He was an all-star shortstop for the Alexandria Dukes in the Carolina League in 1983. He made his major league debut with the Pirates on June 25, 1985 at the age of 21.
Khalifa accumulated one year of major league service over three seasons. He retired in 1990. Khalifa had numerous individual honors as a high school baseball standout and also was named all-city quarterback by the Arizona Daily Star in 1982. That same year he was one of 18 players invited to represent the United States in the World Fair Baseball Tournament in Knoxville, Tenn.
Khalifa returned to Sahuaro this past year as a volunteer freshman football and varsity baseball coach.