Saturnino "Curly" Santa Cruz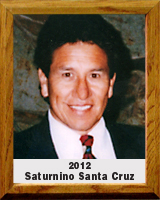 Inducted Class of 2012
A graduate of Pueblo High School in 1962, Saturnino "Curly" Santa Cruz was an all-city running back for Coach Lou Farber and a standout track performer. He was a member of the 1961 State Championship football team.
Santa Cruz played college football at Palo Verde College and California Western University. He received his B.S. and Master's degrees from the University of Arizona, the first member of his family to receive a college degree.
Santa Cruz began his 40-year career as a teacher and coach in 1969 at Magee Middle School. In 1970 he was credited with giving vital first aid to a student who was injured and had stopped breathing after missing the landing pit while high jumping. His principal, Gordon Overstreet, credited Santa Cruz with saving the student's life.
In 1980 Santa Cruz became head football coach at Pueblo High School. His 1988 team went unbeaten in the regular season and through the playoffs until they lost in the championship game to Agua Fria. His 1992 team was the last Pueblo team to qualify for the state playoffs.
Santa Cruz moved to Sunnyside High School in 2000 as the offensive coordinator and the school played in two state championship games, winning one.
Santa Cruz also was the track coach at Pueblo High School and in 1975 the school finished second in the State. He won Coach of the Year honors in 1988 by both Tucson newspapers.