Shawn Charles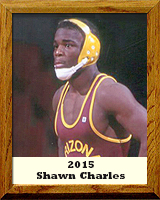 Inducted Class of 2015
Hester LeShawn "Shawn" Charles attended Santa Rita High School and won 3 consecutive State Wrestling Championships, going undefeated his junior and senior year. He was inducted into the Santa Rita Hall of Fame upon graduation in 1988.
Charles earned a scholarship to Arizona State University and became a four-time All-American (5th, 7th, Runner-up), the first in the school's history. While at ASU he won over 100 matches which places him in the top 20 for career wins, he was crowned the PAC 10 Champion twice and he wrestled in two All-Star competitions. He was later inducted into the ASU Hall of Fame
After graduating from ASU in 1993 with a business degree from the W.P. Carey School of Business; Charles began an international wrestling career. He proved to be one of the best wrestlers in the world, winning championships, such as, the Takhiti Cup (Iran National Tournament), Manitoba International, US Open Freestyle Nationals, New Your Athletic Club International, two-time Sunkist international & Outstanding Wrestler, Slovakian Grand Prix, Bulgarian International, Turkey International, two-time US Olympic Festival, Espoir Nationals, and Pan American Championships. He was also an alternate for the 1996 Olympic Team.
Charles as a D1 Coach: Coach of the Year-PAC 10 Conference, Coached the Outstanding Wrestler in the NCAA Champions, three Academic Male Student-Athletes of the year, 42 All-Americans and 5 NCAA Champions.
His international coaching career includes: Pan Am Championship – Cadet Level (Gold) and Senior Level (Silver), two-time World Cup coach, three-time Olympic Support Staff Coach, two-time Ukraine International Tournament Coach.
Charles currently lives in Chandler, AZ with his wife Jill and two sons; Shawn Jr. and Titus.