Shelley Duncan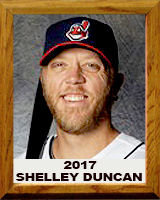 Born and raised in Tucson, Arizona, Shelley Duncan was known for his accomplishments on the baseball field. A three-year letterman at Canyon del Oro High School that led his team to victory in the 1997 Arizona High School State Championship and a national ranking in the Top 25, Shelley was a two-time Arizona Republic state player of the year. Shelley finished his high school career setting city and school records for home runs in a season (13) and career (26).
Shelley spent three years at the University of Arizona shattering all of the school home run records and leaving as a first team All-American. After hitting 20 home runs his freshman year and earning first team Freshman All- American honors in 1999, Shelley went on to break the career record of 36 in only his second year. In 2001 Shelley had a season that earned him first team All-American honors as he led the Pac-10 in home runs (24) and runs batted in (78). His 24 home runs that season are an Arizona record, and a mark that still hasn't been reached in the Pac-12 since he did it that year. He left with 55 home runs, which still stands as the Arizona record and 5th best in Pac-12 history.
After Shelley's junior season at Arizona he was drafted by the New York Yankees in the second round of the 2001MLB Draft. Shelley spent seven seasons in the minor leagues with the Yankees organization before he was called up to the Major Leagues in 2007, where he was managed by Hall of Fame manager Joe Torre. As a member of the 2007 American League Wild Card Champion Yankees, Shelley played alongside teammates including Derek Jeter, Roger Clemens, Mariano Rivera, and Alex Rodriguez.
In 2010 Shelley moved on to the Cleveland Indians organization where he spent three seasons, hitting 33 home runs and driving in 114 during that time in the big leagues. His last season in the majors came in 2013 as a member of the Tampa Bay Rays. He retired from playing baseball in 2011.
Over the course of his playing career Shelley was a member of 5 minor league championship teams, a World Series Championship team, 3 minor league All-Star teams and was a 2009 Topps Minor League Player of the Year.
Shelley is currently a minor league manager in the Arizona Diamondbacks organization. He will spend the 2017 season in Visalia, California, managing the Visalia Rawhide, the Advanced Affiliate of the Diamondbacks. In his first year as a manager in 2015, he led the Hillsboro Hops to the Northwest League Championship.
Shelley spends his off-seasons in Tucson, AZ. He is the founder of the Tucson Youth Baseball Association, a non-profit organization that has an emphasis on growing the popularity of baseball in Southern Arizona and making the sport more affordable for families in the area.