Steve Botkin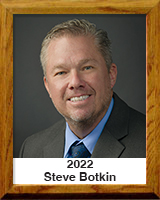 Steve Botkin has been a varsity girls basketball coach for 26 years. He started at Rincon High School from 1995-2000, where he compiled a record of 116-43.

Botkin moved to his alma mater, Sahuaro High School, in 2001. Since then he has won 475 games, giving him 590 in his career and an 80 percent winning ratio. He has won more games in girls high school coaching than anyone in Tucson history.

Only one coach in Arizona has more career wins in girls varsity basketball.
He was named Coach of the Year by the Arizona Daily Star and Tucson Citizen, and was a finalist for the state's coach of the year twice by Phoenix's Arizona Republic.

Botkin's teams have gone to the state playoffs for 26 consecutive seasons, winning 10 region titles. In the state tournament, Botkin's teams have reached five Elite Eights, and four Final Fours and in 2020 the Cougars were the state runner-up, going 28-1 before losing to Seton Catholic in the 4A state title game.

Botkin became Sahuaro's athletic/activities director in 2017 and continues to run the girls basketball program.

He was inducted into the Sahuaro Cougar Hall of Fame in 2020.
During his first year as athletic director, Sahuaro was recognized by the Arizona Interscholastics Association as the large school Tony Komadina Award recipient for Excellence in Women's Athletics for the state. Sahuaro also won the Superintendent's Cup for the highest-achieving athletic program in the Tucson Unified School District.

Botkin was recently named to the Coaches for Charity board, a position at which he schedules high school basketball games played at the UA's McKale Center on Martin Luther King Day. He is a committee chair for the AIA Women's Equity Committee.

Botkin graduated from Sahuaro in 1986 and from the University of Arizona in 1990. While at Sahuaro, Steve played football and discovered his love for basketball. He volunteered as an assistant girls' basketball coach with Jim Scott while he was still in college. Steve also was mentored by legendary coach Dick McConnell.

In 1988 Steve became the freshman girls basketball coach and his love for coaching flourished. Steve then became the junior varsity girls coach at Sahuaro and then the varsity coach at Rincon High School.

When two-time state championship coach Jim Scott retired in 2000, Steve became the third varsity girls basketball coach at Sahuaro.