Steve McLaughlin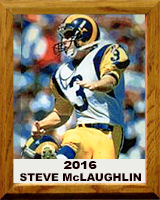 Inducted Class of 2016
Born and raised in Tucson, AZ., Steve McLaughlin graduated from Sahuaro High School in 1990. He received a scholarship to the University of Arizona as a place kicker and played 5 years under Dick Tomey. During those years McLaughlin achieved numerous Pac-10 Special Teams player of the week awards as well as AT&T Long Distance awards for the longest field goal for that week in college football across the nation.
His senior year McLaughlin earned 1st Team All-Pac 10 awards and was also named a consensus All American. He won the 1994 Lou Groza award which is awarded every year to the nation's top place kicker.
In the community, McLaughlin took part in the Smith project which involved athletes from the UA speaking to students in Tucson schools. He graduated in 1995 with a degree in communications then was drafted by the St Louis Rams in the 3rd round of the 1995 NFL draft (82nd overall.)
After a 3 year stint in the NFL, McLoughlin joined the Arena Football League. He helped his team to two Arena Bowl appearances while playing in Nashville for 4 years. He was named 2nd team All-Arena in 2002 with Buffalo, and finished his 8 year career in the AFL with season in Atlanta, Orlando, and Arizona.
In 2000, McLaughlin was inducted into the University of Arizona Sports Hall of Fame. After playing 11 years professionally he hung up the kicking shoes but remained active by giving private lessons and holding a free kicking camp for kids in Tucson.